As a long standing client, we have worked on many interesting projects with Liverpool John Lennon Airport over the years and it was indeed the airport that recommended us to the Eurovision organisers for the airport, Marketing Liverpool.
We were brimming with excitement that the Eurovision Song Contest was coming to the region in 2023 and that excitement turned to fever pitch when we were asked to brand up Liverpool John Lennon Airport!
Working with Marketing Liverpool, Eurovision had a clear idea of what they wanted to achieve when branding this important gateway into the city – Liverpool John Lennon Airport.
There would be acts and fans arriving from all over Europe and further afield and they wanted to ensure maximum impact.
BESPOKE SUITCASE GRAPHICS
FIRST IMPRESSIONS COUNT…..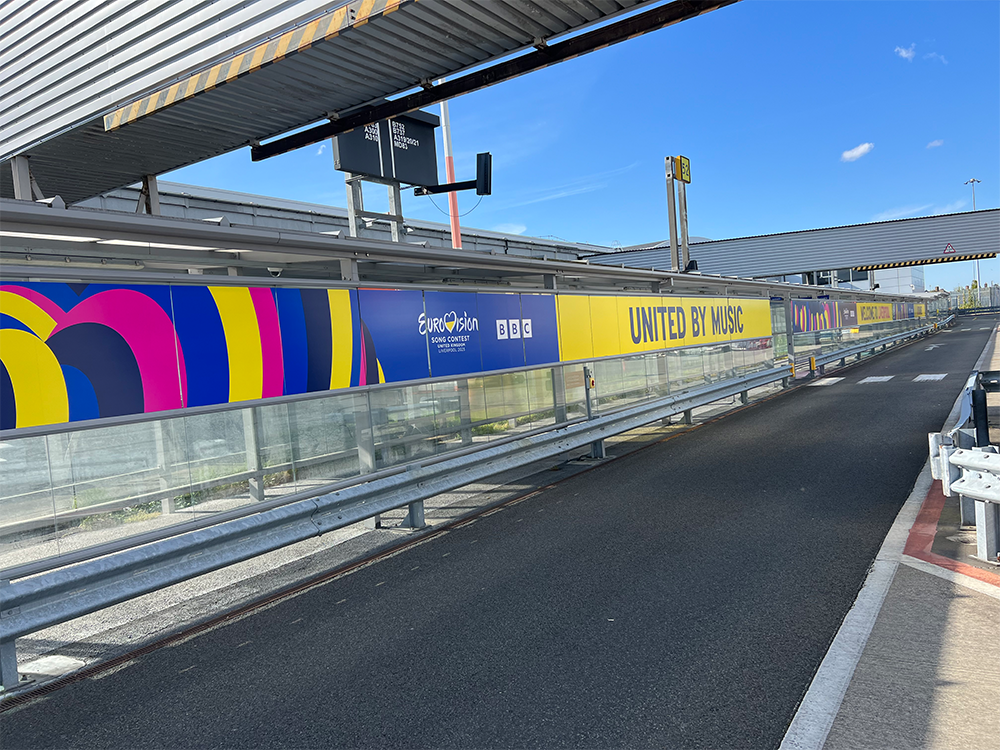 And the first thing anyone arriving at the airport would see is the huge digitally printed graphics on the glazed walkway, Visible from the plane as it approached the airport…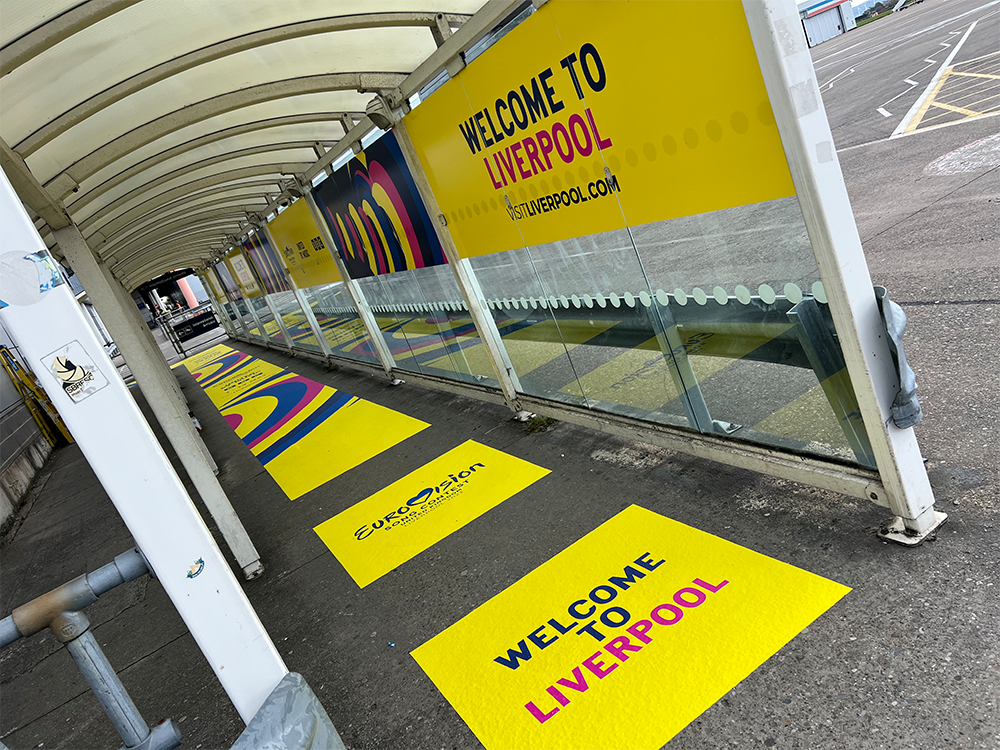 Arrivals would then walk onto over 50 metres of yellow printed external floor graphics leading up to the terminal.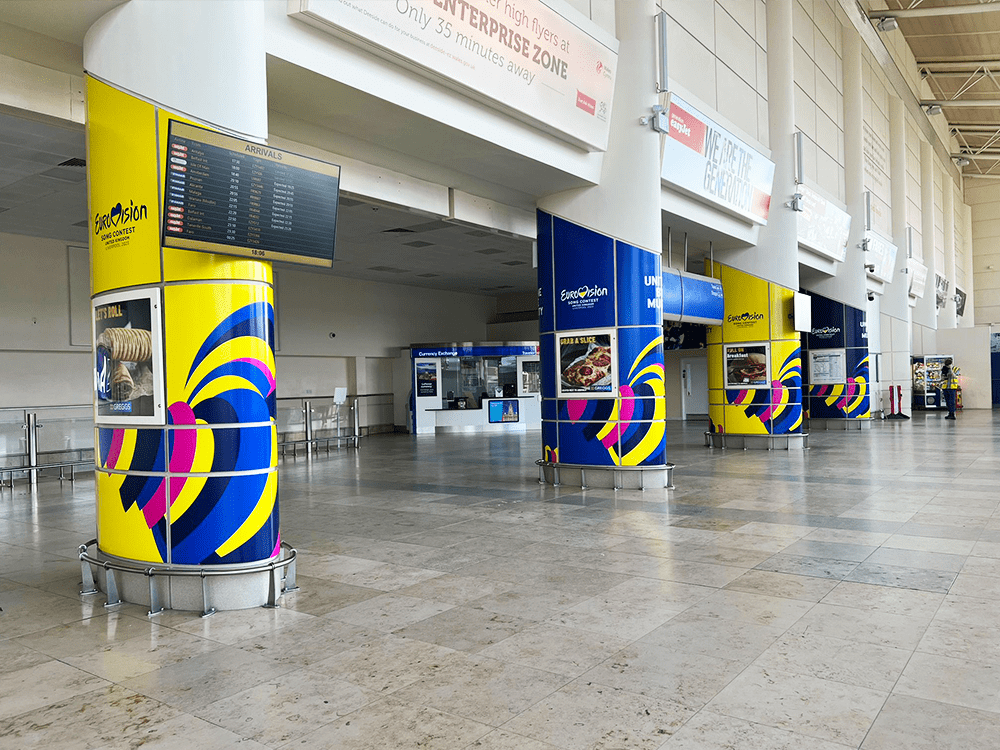 There was an array of wrapped columns, stair and floor graphics throughout the whole journey through the airport, each offering a colourful photo opportunity.
The highlight for the team and the 'show stopper' for the airport were the wrapped suitcases positioned on the luggage carousels.
How do we wrap a suitcase?
Suitcases are definitely not designed to be wrapped and the iBrand team had to test a number of materials and application techniques before deciding on the correct media.
How do we keep the suitcases secure on the carousel?
Custom made stands that the suitcases can slot in to and lock to prevent the suitcases from moving.
Digitally printed, matte laminated and expertly wrapped by the iBrand team…. the suitcases looked amazing!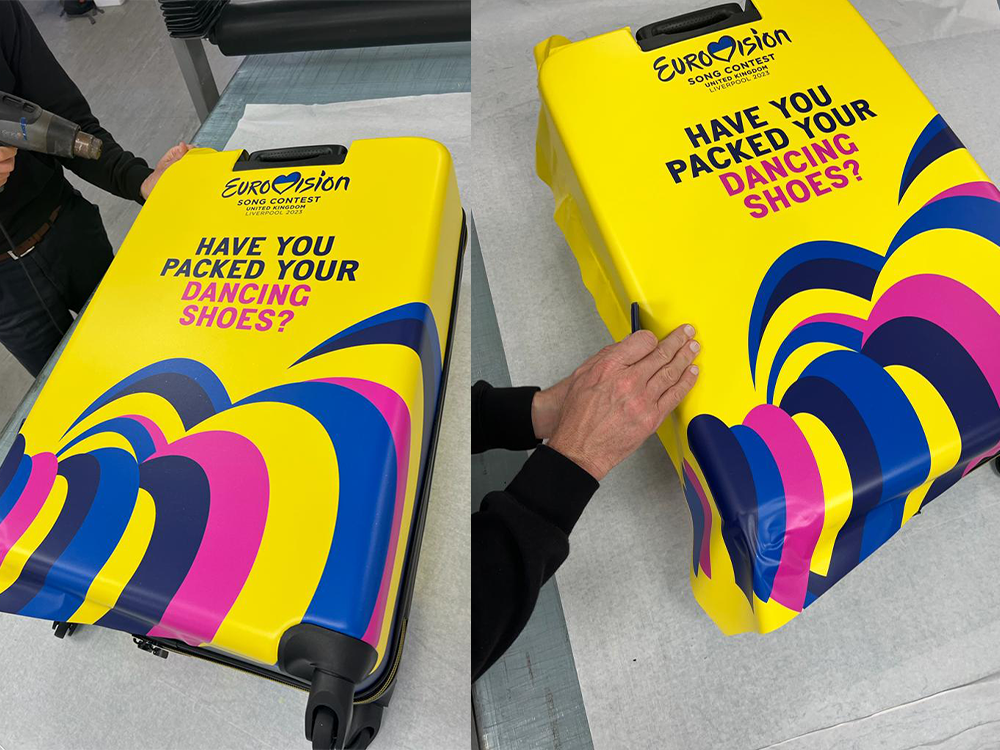 This project presented many challenges from the offset…..
400 square metres of media to print to laminate and prep on a variety of different materials for different applications.
We then had a two day schedule to install the branding in a busy, vibrant airport, in time for the Eurovision launch and the arrivals of the first delegates. We had three iBrand teams on-site carrying out the installation, two working airside and one landside.
We just had time to take a breathe before the Eurovision was over and we returned to the airport to remove the branding, much to the disappointment of the staff at the airport who had enjoyed the bright vibrant branding and didn't want to see it go.
The suitcases were gifted to Liverpool John Lennon airport competition winners which made the iBrand team smile!
FREQUENTLY ASKED QUESTIONS
Are floor graphics just normal vinyl?
No, the floor graphics are a matched system of self adhesive vinyl and anti slip laminate designed specifically to be used as floor graphics, we can provide a certificate as proof for health and safety. Normal vinyl will not be up to the task of high traffic areas and won't comply with health and safety which could invalidate your insurance if there is an accident.
Can floor graphics be a permanent solution?
We have an extensive range of floor graphic solutions, ideal for long-term and permanent use, as well as for short-term projects; and suitable for both indoor and outdoor installations.
Do I need to supply you with a design?
You're welcome to provide a design but if you don't have one then our in-house design team can work with you to create one for you.
Wall graphics are just that – graphics that you put on the wall, or any flat surface. They are becoming a popular form of signage due to their versatility. Wall graphics don't have to be a permanent fixture making them perfect for timely messages – they're a hugely effective way of getting your message across without the need for any messy or permanent paint jobs. Wall graphics can be used over big areas and around corners or in this case can be applied around pillars. 
Create an impression that will last
Get a quote for your event signage today